The Great Foraging Experiment with Robin Shewokis!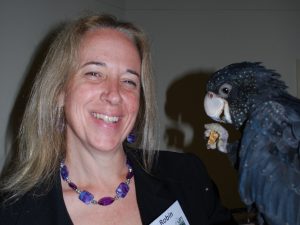 Robin Shewokis is the owner of The Leather Elves, a company that designs and manufactures enrichment devices for animals in captivity. Since 2000 Robin has consulted at zoos in the U.S., Canada and Holland and has distributed enrichment products worldwide.
Robin regularly speaks at parrot clubs, providing workshops teaching ways to create a stimulating environment. She also develops new products for parrots that will stimulate naturalistic behavior. Robin has published articles on enrichment in national and international publications. She has also produced a DVD titled "Enriching Your Parrot's Life."
I (Joanna) have heard Robin speak and she is amazing! We felt that we would be doing an injustice to the parrot world in Indianapolis by not bringing her here to you! We wanted her to share her ideas and thoughts and help enrich your birdies lives!!
So with that being said…. We will have Robin here at Bird Fever to speak to all parrot owners both new and old on January 13, 2019 from 1-3 pm! Cost of the class is $20 per person. Refreshments will be provided along with a special goodie for attendees only!
To register:
Seating will be limited so call or stop by to secure your seat! We look forward to having you here!!
Phone Number is 317-845-7823